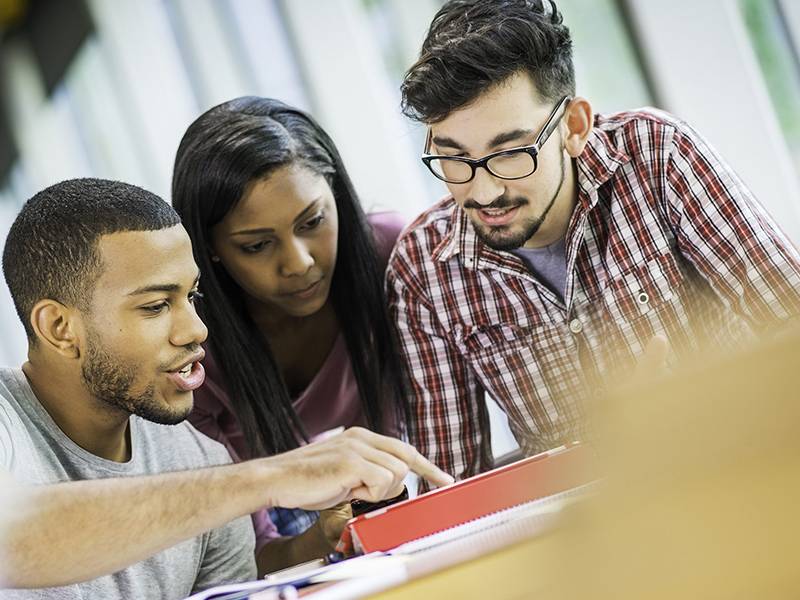 10 good reasons for studying in Göttingen
A traditional student city
Göttingen is a student city through and through – you will quickly notice that. Everywhere you look, you see young people: in the city center the students are drinking coffee or beer, in the park they are having a barbecue and on the university sports grounds they are playing football.
In addition to the inner city, the university campus is basically Goettingen's second city center: Thousands of students meet here not only for lectures, but also for events and much more.
Why do so many people decide to study in Göttingen  ? Because there are pretty good reasons for that!
These 10 convince us the most:
1. Comfortable cycling in Goettingen
Long journeys from A to B by bus or train? Or buy a car? You don't need anything in Goettingen. The town is small, cozy and bike-friendly. As a rule, you can reach all destinations by bike in a few minutes. So you see a lot of cycling students and professors on the streets.
2. Small but mighty
Although Göttingen is a relatively small city – with around 160,000 inhabitants – there is a lot here – pubs, clubs, several theatres, cinemas, dozens of sports facilities and also plenty of opportunities to get involved and get involved.
3. Nature – also close to the city
You can experience nature close to the city in Göttingen: There is the Kiessee, the city forest, the Schillerwiesen, the ramparts, the Cheltenham Park or the Leine. Here you can go for a walk, jog or meet up with friends to enjoy the sun. You can also explore a breathtaking landscape around Göttingen – on excursions into nature you can explore the surrounding mountainous landscape and lakes.
4. Goettingen university sports
University sports in Göttingen impress with a huge range of sports: the offer ranges from Bujinkan Ninjutsu to cricket disk golf to sports classics such as volleyball. In addition, the large meadows around the university sports center are ideal for getting together with friends for outdoor sports or a barbecue. The offers of the university sports are aimed at students of the Göttingen university and colleges.
5. Socialize
In Göttingen, students like to get together – there are numerous dormitory parties, events by student councils and much more here. The party scene is aimed at the many students. So you certainly won't get bored!
6. The beautiful inner city of Goettingen
Lots of cute cafés and bars, a lively pedestrian arcade, restaurants and historic half-timbered houses: Göttingen city center is always worth a visit. The city center is located directly on the PFH campus, so you can spend many happy hours here!
7. Discover Göttingen's cultural scene with the culture ticket
A culture ticket is included in your semester ticket – and this offers you unique opportunities: You can go to as many performances at the Deutsches Theater in Göttingen as you want for free. You can also take advantage of many other cultural offerings in Göttingen, as you can see in the  overview  here.
8. University town with a rich tradition
"The city that creates knowledge" – it is no coincidence that Göttingen has this title. For hundreds of years, Göttingen has been a university town. On a walk through the city, you will notice many statues and signs reminiscent of well-known figures: Take a look at the house in which Robert Koch lived, Carl Friedrich Gauss or Johann Wolfgang von Goethe.
9. Internationals Welcome
Cosmopolitan and international – that's how you can definitely describe Göttingen. There are many students and researchers and professors from all over the world in this cozy city. If you want to get to know other languages ​​​​and cultures, you will certainly find opportunities to do so in Göttingen!
10. Campus life: canteens, libraries, meeting places
There are a number of meeting places for students in the PFH building, such as a café, a library or lounges. If you want to try out new meeting places with your fellow students, that's also very easy: The PFH campus is located directly on the campus of the Georg-August-August University of Göttingen. There you can use all offers with your student ID: visit one of the libraries, one of the three canteens or one of the cafés.